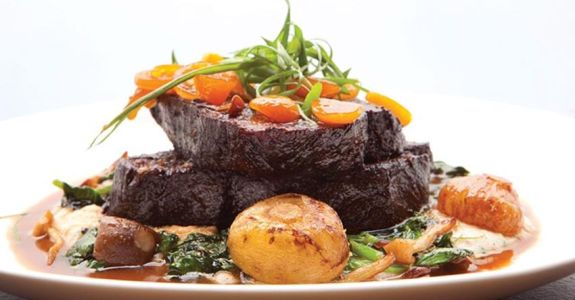 LEDLOW REVIEW: CLASSIC AMERICAN COOKERY IS KING AT JOSEF CENTENO'S LATEST
At this rate, chef Josef Centeno will one day have a restaurant in every storefront in downtown L.A. The rapid creep of his closely grouped restaurant empire now includes Bäco Mercat, plus his mezcal-and-queso–fueled Tex-Mex spot Bar Amá around the corner, his tasting menu–only project Orsa and Winston (which is temporarily serving yakitori), and now his fourth venture within a two-block stretch, Ledlow.
Following the trajectory of Ledlow has been a little bit head-spinning. Last summer, Centeno announced that he would be taking over Pete's, the space directly next door to Bäco Mercat, which had been serving diner-type food since 2002. The name would remain Pete's. The building was renovated, the interior converted into a classic white-walled, tile-floored, light-filled space, anchored by a marble bar along the back wall. Then after opening, possibly because too many people wandered in and were confused by the new restaurant/old name, the name was changed to Ledlow Swan. Within a few days that name had been pared down to Ledlow.