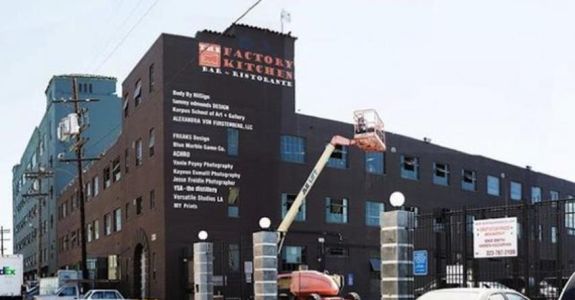 Factory Kitchen Brings More Italian Food to DTLA
A new Italian restaurant with a couple of big names behind it will debut at the Factory Place Lofts in the Arts District this week. Chef Angelo Auriana (Valentino) and Matteo Ferdinandi (Drago Centro) plan to soft open Factory Kitchen on Thursday, October 24, bringing rustic Italian food made with "fresh, seasonal and locally sourced ingredients" to this tucked-away corner of Downtown LA. The pedigree is there: Auriana worked with Piero Selvaggio for more than 18 years, while Ferdinandi was with Wolfgang Puck before joining Celestino Drago to open his suit-friendly Downtown restaurant. The space is industrial-chic with concrete floors, warehouse bones, wood tables and garage doors for an open-air feel (fun fact: Factory Place, located off of Alameda Street near 7th, was one of the first living and work spaces to open when artists started filling this warehouse-laden part of Downtown LA in the early 1980s).
Sure, there are similarities to nearby Bestia, which is also an Italian-focused restaurant with a seasonal, local slant hidden in a loft-dwelling corner of the Arts District. But knowing someone who actually lives in the Factory Lofts building, we can honestly say: parking is so much easier. Factory Kitchen will open for dinner at 5 PM during the week, 4 PM on the weekends, with brunch and lunch to be added soon.
1300 Factory Place; 213-996-6000
Sorce: Zagat