Upscale Ventura Blvd. Salon Designed to Resemble a New York Loft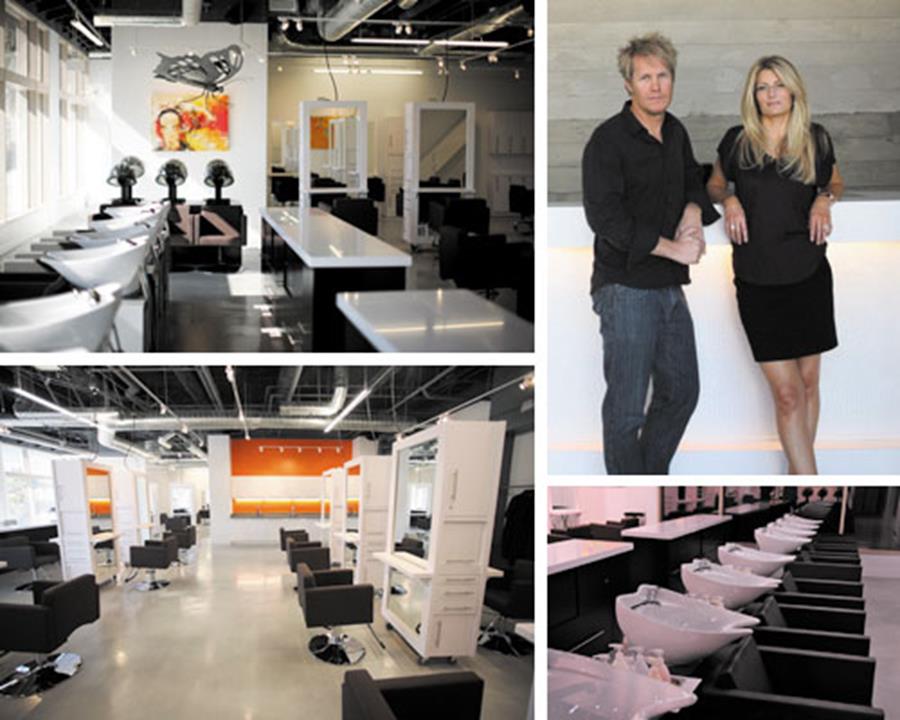 Butterfly Loft Salon and Spa opened recently, in the Encino Courtyard on Ventura Boulevard. Owners David Thurston and Alexis Lishman have taken a second-floor commercial space that was vacant for seven years and transformed it into an upscale salon resembling a New York loft, with high, exposed ceilings, polished concrete floors, and dramatic floor-to-ceiling windows that extend across the length of the salon, offering views of the Encino hills above and the hustle-bustle of Ventura Boulevard below.
The 3400-square-foot salon features Italian-made furniture and equipment, much of it custom designed in a brown, charcoal, and white color palette that emphasizes the urban loft atmosphere. Modern artwork from artist Archan Nair offsets the muted tones with splashes of bright orange.
A large, custom, metal butterfly sculpture with a six-foot wingspan suspends from the ceiling in the salon work area and serves as a focal point. Thurston and Lishman collaborated with British artists Graham Thrussel and Mathew Morris (who also breeds butterflies), to make the sculpture.
"We've chosen the butterfly image for our salon because of its association with transformation…the caterpillar evolving into a beautiful butterfly," said Thurston. "Our salon provides an inspiring place that will stimulate our stylists' creativity to transform their clients' appearance and sense of well-being. At the same time, we're changing the way salons are typically run, all the way from new hiring methods to our commitment to an eco-friendly environment."
Since the owners built the space from the ground up, they were able to create a custom exhaust system, designed to eliminate the fumes and chemicals caused by today's specialized hair straightening treatments. Stylists activate the exhaust system over their individual stations by simply turning a timer switch. The salon expects to receive green certification shortly.
Owners David Thurston and Alexis Lishman bring years of experience to their latest venture. During the last decade Thurston developed a salon-exclusive hair care product line sold nationwide, and has also served as a special consultant to a group of high-end salons in Orange County. Lishman has over 13 years of experience as a hair stylist, and has been responsible for mentoring many of the stylists working throughout the San Fernando Valley.
Butterfly Loft Salon and Spa features 24 hair stations, one make-up station, one nail station, and two spa rooms for facials and waxing. For more information call 818-386-1100, or visit www.butterflyloft.com.
Source: Stylist Newspapers