Russell Simmons' New Yoga Studio Aims for Hot Yoga Nirvana
Entrepreneur Russell Simmons has never been shy about taking eclectic bits of high and low culture, remixing them and deftly rebranding them with his own modern twist. He's done this successfully in music, fashion, entertainment — even veganism. Now, as a fairly new transplant, his latest endeavor, located where West Hollywood meets Beverly Hills, is Tantris, an ambitious reshaping of hot yoga as an all-inclusive lifestyle.Simmons has claimed not just the concept but the word Tantris is entirely new. "Tantris is a made-up word that [Russell] basically created a definition for — which is the weaving together of tools for spiritual evolution," states Tantris' preppy yoga manager, Britton Darby. Darby, who co-founded the successful Modo Yoga NYC, says she's convinced that Tantris is a revelation for the industry. "Everything in this space is meant to assist you in your yogic lifestyle," Darby says, adding, "Maybe other people have had the vision, but to bring it to life in the way that he has the capability of doing is really unique and magical."
While the word itself isn't actually new (the original Tantris is a two-Michelin-star restaurant of some fame in Munich), what it's meant to signify as a hip buzzword may be. With signature touches such as curated music that's 50 percent yoga devotional and 50 percent hip-hop, plus an intuitively savvy client entry-to-exit plan that includes vegan-friendly (but not vegan-exclusive) nourishment before class, a spacious upstairs community center space, a downstairs beauty bar, a branded apparel shop and other postclass options, Tantris is an ambitious, one-stop karmic destination. And it's located in the same building as the posh, members-only Soho House, which makes it a literal hot spot for celebrity sightings.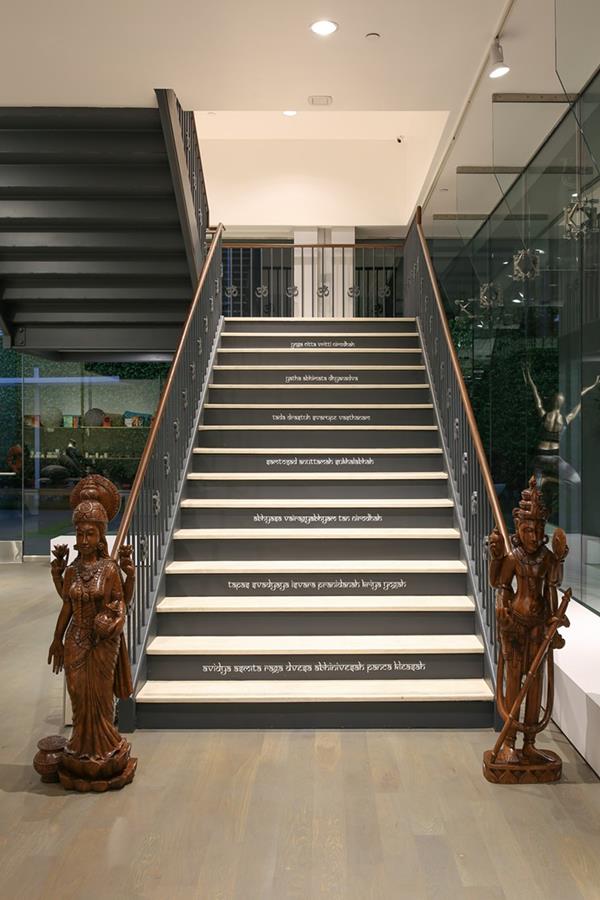 But bells and whistles aside, Darby says what's truly revolutionary about Tantris is its back-to-basics take on hot yoga. Too often modern hot yoga studios tend to sacrifice the mindfulness of the practice in a feverish pursuit of a more extreme physical test of heat endurance, which leaves much of what is valuable about the discipline unexplored. "The way we use heat is different than other studios in that we are not overheating people. We are not using it like a sort of boot camp, like, 'I bet you can't do this,'" Darby says. "Our approach is to be as therapeutic as possible."
With a full schedule of heated classes ranging from 85 to 98 degrees and a restorative unheated class, students of all levels can pick and choose their desired level of difficulty paired with the right amount of heat. And, laid out before class in front of where the mats will be, little cards succinctly explain the derivation and/or definition of any devotional chants that will be part of a class. It's a small extra that goes a long way in being more inclusive to newbies.
At the moment, parking is pricey but the classes themselves (starting at $28 per class to $130 for a five-class package, with a free introductory class for first-timers) are reasonable. (And we're told they're actively trying to negotiate better parking prices for clientele.)
Beyond its therapeutic benefit and eco-friendly premises, education is a huge part of what Tantris is and hopes to continue to be. With weekly karmic classes that are separate from the daily hot yoga class lineup, along with larger-scale yoga-related events and speakers planned throughout the coming year, Tantris is a refreshing undertaking that reflects Russell's ideas about yoga practice, community and a need to pay it forward.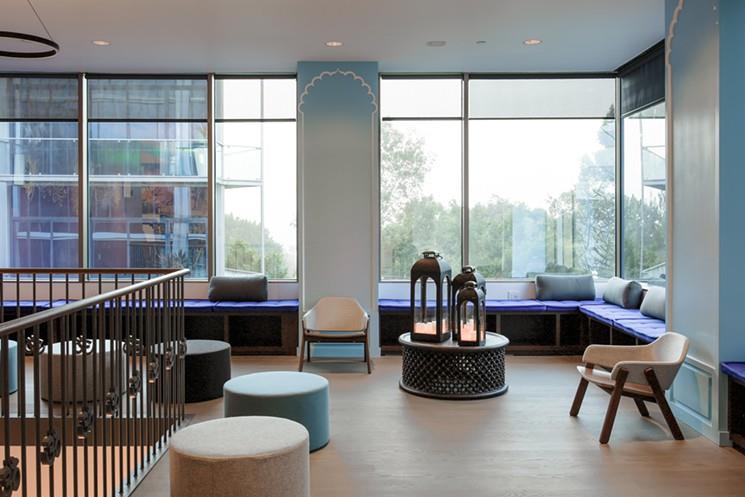 Tantris Center for Yogic Science, 9200 Sunset Blvd., West Hollywood. (213) 894-9200, tantris.com.
Source: LA Weekly