The Best Restaurant Contractors in Los Angeles
The Los Angeles restaurant scene is evolving faster than ever. As celebrity chefs open everything from opulent dining rooms to taco joints modeled after beach shacks, design and construction have become as important as the menu items in establishing an L.A. eatery's identity and determining its success.
10) MDM Builders
(213) 327-0646 | 541 South Spring Street Suite #213 Los Angeles CA 90013
MDM Builders is a family affair, owned and operated by Moshe Librush and his sons Michael and David. They are a full-service firm, taking retail and restaurant spaces around Los Angeles from pre-construction to grand opening. The close-knit team operates out of an office in historical Downtown Los Angeles. They collaborate with up-and-coming proprietors, and local architects and designers, such as Inglewood's Aero Collective.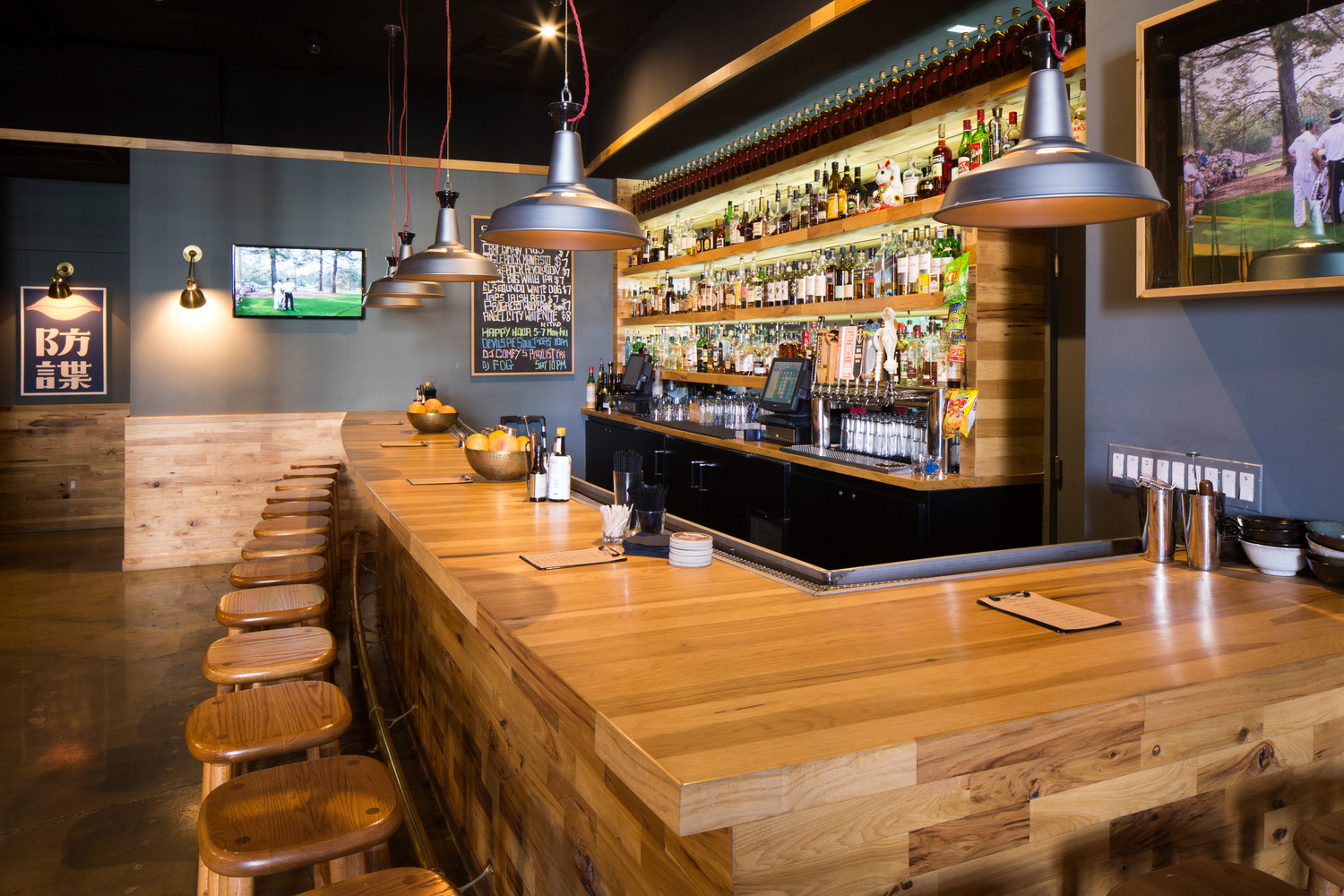 Featured Projects
Wolf & Crane, a late-night bar in Little Tokyo, presents a more approachable side to L.A.'s pervasive craft cocktail culture. Formerly the home of 2nd Street Jazz, this casual but stylish pub was designed by Megan Donnell and Brion Moran of M&B Design. Proprietors and residents of Downtown L.A., Michael Francesconi and Matthew Glaser, partnered with the design team and MDM Builders to create an environment that was cool and unintimidating. Contemporary touches like polished concrete floors and linear banquettes elevate a casual drink. The bar, back bar, and benches are all in light-stained wood. Ceiling-to-mid-wall ropes make for a minimal room divider between two small seating areas. "Nafudake," traditional Japanese wooden shingles bearing the names of regulars hang by the bar. Eater LA, LA Downtown News, LA Magazine have all taken note of this eclectic barroom.
9) Modaa Construction
(310) 359-8701 | 520 Broadway 2nd Floor Santa Monica CA 90401
President of Modaa Construction, Patrick Ahoubner, has just under a decade of experience in the building construction industry. Their attentive and dedicated team in Studio City take a dynamic approach to each contract, seeking to educate and work with clients to see a project from every angle, and anticipate any hurdles or opportunities. An on-staff LEED AP certified Project Manager ensures that no project forgoes ecological integrity. Modaa Construction tackles both residential and commercial builds. Their commercial work has been covered in The Architect's Newspaper, Los Angeles Times, Observer, and Los Angeles Magazine.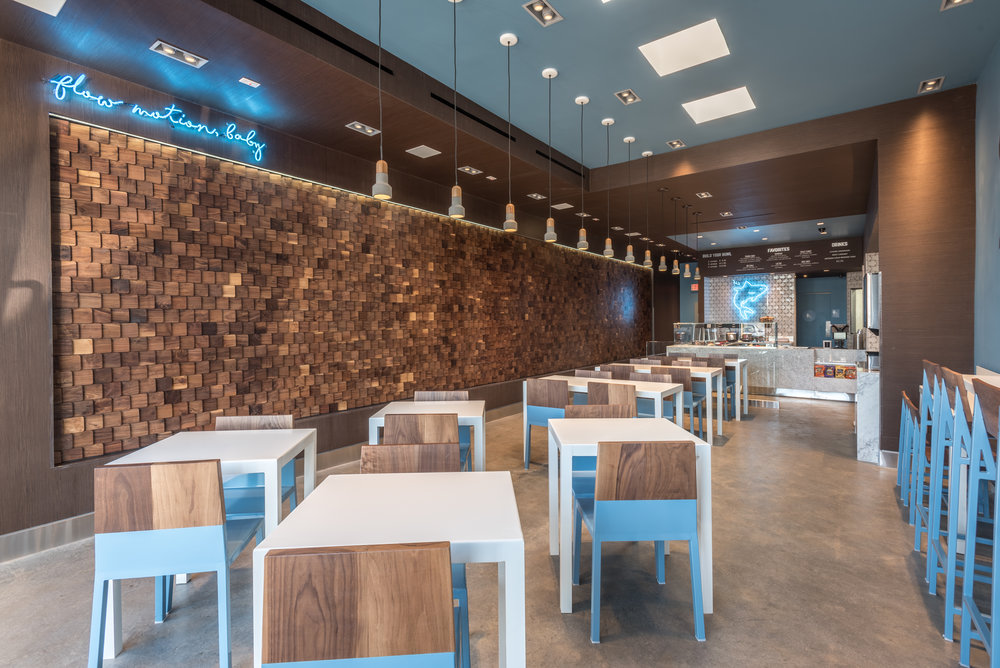 Featured Projects
For their first Glendale outpost and a reinvention of their brand, Mainland Poke enlisted the help of Modaa Construction and Culver City firm Abramson Teiger Architects. The chopped fish proprietor sought to build a sleek yet character-filled location that would serve as the model for future expansions and better reflect their high-quality menu. The result is a restaurant with high-end polish and subtle nods to Mainland Poke's seafood fare. Simple, relatable materials, like a brick exterior, wood-paneled walls, and polished concrete floors, make the space inviting and comfortable. Tiles throughout the kitchen that appear to interlock evoke fish scales, as does the wall of custom geometric-cut wood that overlaps in warm, organic hues. The dining room is furnished with streamlined custom designs by the architect. A marble service counter and water station add a refining touch.
8) PKJ Construction
(714) 455-2997 | 23307 La Palma Avenue Yorba Linda CA 92887
PKJ Construction is primarily a restaurant contractor focused on tenant improvements and ground-up builds. From their home in Orange County, the firm has developed lasting client relationships with names like Max Brenner and Lazy Dog that have led to restaurant construction projects in 37 U.S. states. Paul Kurz, Jr. founded the firm in 2004, originally as a millwork and tile installation subcontractor. Initial experiences helped his team get insight into the volatile Southern California restaurant scene, and eventually the company expanded their services. Eater LA and LA Daily News has chronicled the expansions of several PKJ Construction clients.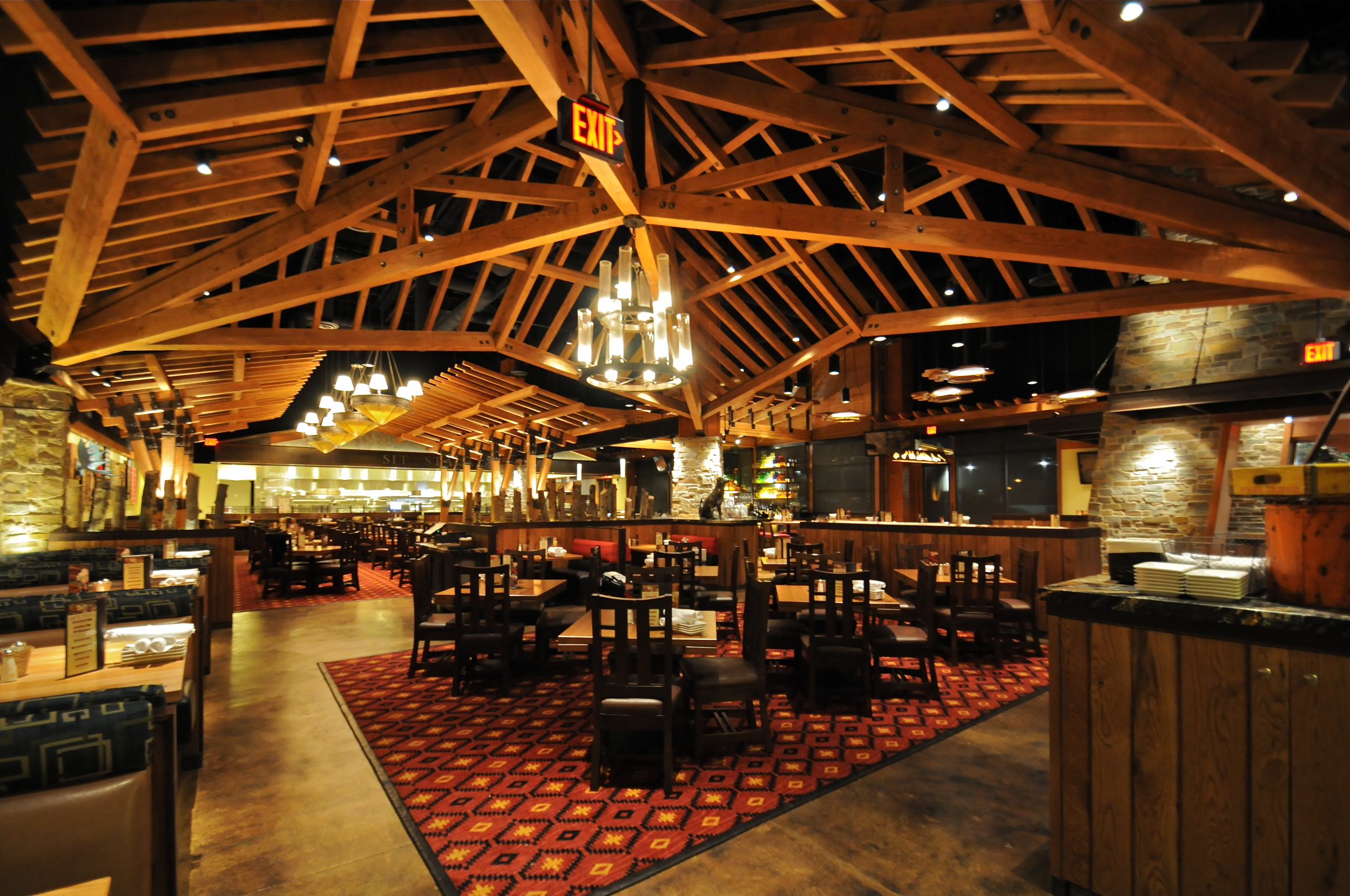 Featured Projects
Nick's on 2nd is the Long Beach iteration of the beloved New American mini-chain. Owners Brian Harrington and Nick Nickoloff worked with PKJ Construction to create an easy-going space that still conveys the quality of the menu and service. The finishes employ the usual materials in unusual ways. The slate floor tiles are laid in one geometric pattern in the reception area that changes as guests enter the dining room. The wood cladding on the interior walls also takes different forms as you move throughout the space, the most intricate being the immense flue over the indoor fire pit, covered in wood tiles of alternating depths. Traditional wood ceiling beams meet at the contemporary white soffit above the oval bar and create an interesting juxtaposition with more modern light fixtures.
7) Sierra Pacific Constructors
(747) 888-5000 | 22212 Ventura Boulevard Woodland Hills CA 91364
Since 1980, Principals and Co-founders Ken La Spada and Cary Gerhardt have completed more than 3,000 commercial projects in Los Angeles with their contracting firm, Sierra Pacific Construction. The company has generated over $100M in revenue, primarily from repeat clients. Members of the executive team average more than 20 years each with the company. Projects by Sierra Pacific Constructors have garnered several AIA Los Angeles nominations, recognition from the Los Angeles Business Journal Commercial Real Estate Awards, and the IIDA Calibre Awards.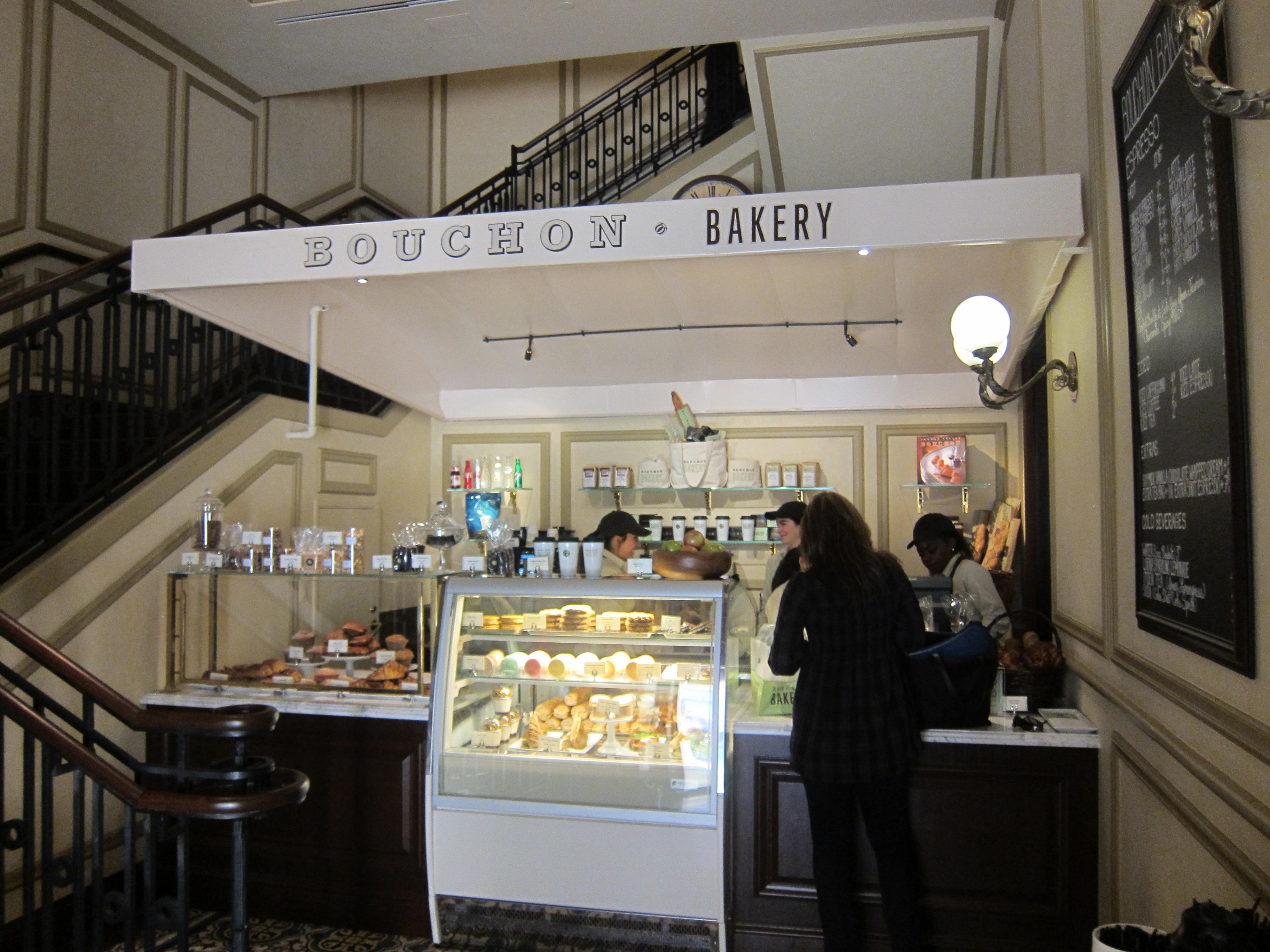 Featured Projects
Acclaimed French restaurant Bouchon left Los Angeles residents with only one thing to be desired: a Bouchon Bakery. New York and Las Vegas had their own Bouchon patisseries before Chef and Proprietor Thomas Keller obliged Angelenos with a compact Bouchon Bakery downstairs from the namesake restaurant in Beverly Hills. Sierra Pacific Constructors had very little space to work with to install a fully functioning bakery kitchen and service counter. Construction also couldn't disturb the bustling exemplar of French cuisine set just behind the new shop. The design is by Adam Tehani, who has designed all of Bouchon's locations. The small entryway is packed with contemporary bistro aesthetic, a nod to the "Bouchon" cafes of Lyon. The hand-painted floor tiles leading from the door to the counter take center stage. Pastry chef Roy Shvartzapel doles out macarons, croissant, and delectable sandwiches over a luxurious marble countertop.
6) DPT Construction
(877) 349-6737 | 19201 Parthenia Street Unit #B Northridge CA 91324
The DPT Construction team works out of their office in Northridge with the oversight of President and CEO David Daoud. Their portfolio consists of retail locations, hotel renovations, restaurants, and more. Prior to expanding to a full-service contractor in 1991, the company started out in 1986 as a fine paint and tile work shop.The company is working toward a nationwide brand by using innovative techniques and products to exceed client expectations. DPT Construction has built relationships with national chains like Five Guys and California Pizza Kitchen, but they also excel in high-end dining room builds.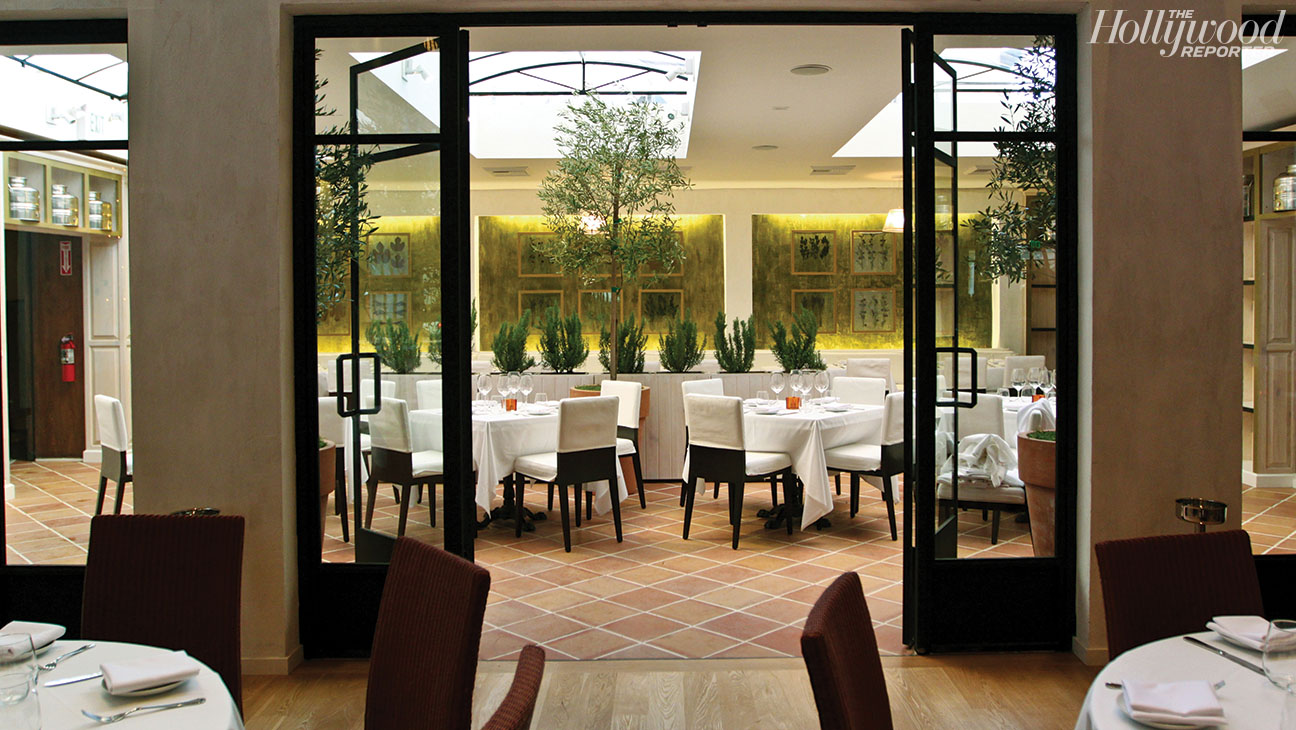 Featured Projects
Even though Fig & Olive is an East Coast important, its West Hollywood location on Melrose Place is quintessential Southern California. The design brings an alfresco experience to every diner and draws on Mediterranean influences. DPT Construction built the 8,000 square-foot restaurant that serves as Fig & Olive's West Coast flagship.The dining room fans outward from a live fig tree at the center, and the perimeter is dotted with rosemary bushes. Beyond the delicately maintained shrubbery is the 50-foot marble bar, which is almost outshone by the ceiling-height backlit wine cache that rises behind it. Similar displays appear around the entire space, the rest stocked with artisanal olive oils. Often touted as a premier wedding venue—there is plenty of room for guests to spread out across the patio and two dining floors—Fig & Olive is known for drawing a crowd as beautiful as its finishes.
5) DLD Consulting & Construction
(951) 201-4177 | 216 South Citrus St. Suite 210 West Covina CA 91791
Over the last 20 years, DLD Consulting and Construction has amassed a portfolio of hot Los Angeles nightclubs and restaurants. The firm also builds commercial projects in another entertainment capital—Las Vegas. Pete Davis brings 25 years of building experience to his role as Commercial Director and CEO. He also founded the firm, which transitioned to the commercial market in 1994. All told, the team has completed 944 projects and hired 128 trained professionals to execute new builds. DLD Consulting and Construction has an exclusive relationship with SBE, the developers behind Katsuya, Hyde, Mondrian, and other luxury hospitality brands. U.S. Builder Review profiled DLD and the contractor's hold on Southern California nightlife.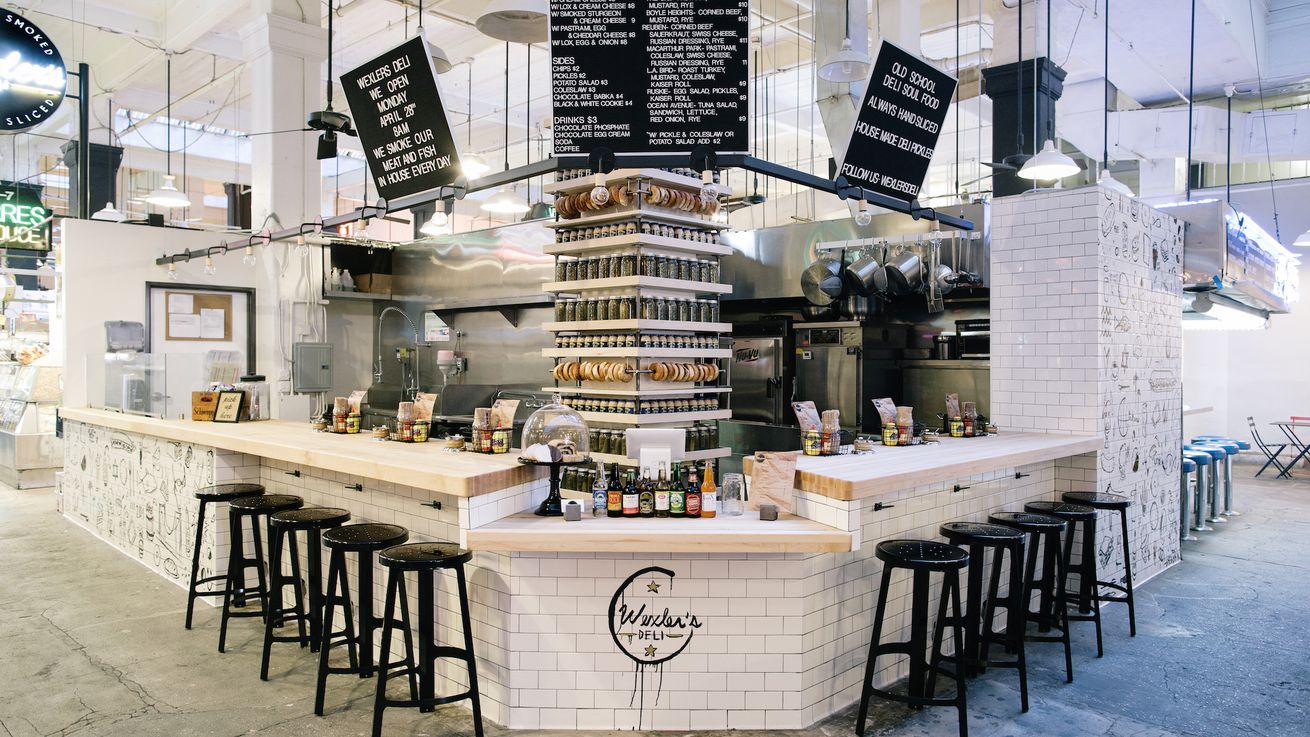 Featured Projects
Wexler's Deli in Santa Monica is a quintessential Jewish deli, serving smoked fish, pastrami, and sweet babka. Co-owners Michah Wexler and Michael Kassar partnered with J. Marx Atelier and DLD Consulting and Construction to produce a contemporary take on the classic Jewish deli. The white ceiling and walls make the double story height feel even larger. A skylight over one seating area brings a Southern California al fresco vibe to diners inside. Traditional white subway tile counters topped in butcher block are splashed with black graphics of simple line-drawings, bringing a youthful touch to an old profession. The space is pared down to the essentials of a functional deli and a stylish Los Angeles eatery. Wexler's Deli has fans at the New York Times, Los Angeles Magazine, Eater LA, and GQ.
4) Barling Construction
(310) 953-4478 | 12228 Venice Blvd Los Angeles CA 90066
Principal Daniel Edward of Barling Construction has led the company for over 20 years. The hospitality-focused general contracting firm relies on experienced in-house Project Managers to navigate the unique complexities of every restaurant build. Among their clients are Chef Walter Manzke of Los Angeles hotspot Republique, and John Secretan, owner of popular Zinc Cafe. The hottest restaurants in the area draw clientele from the entertainment business, so Variety has covered Barling Construction projects, as have Observer, Los Angeles Times, and Vogue.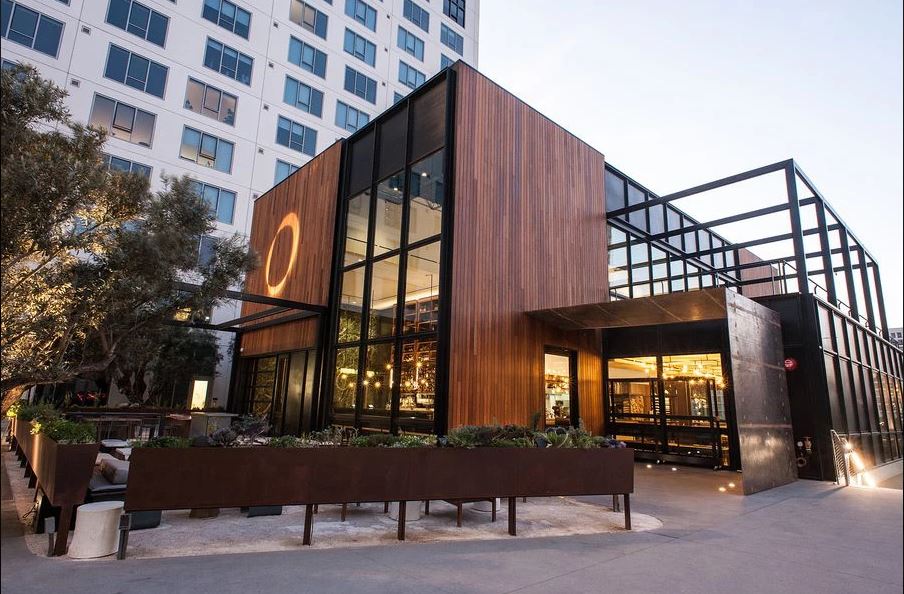 Featured Projects
Barling Construction teamed with architects from StudioUnltd and House of Honey to bring to life culinary darling Otium. The restaurant designs followed from the existing building, a modernist cubic volume designed by architect Osvaldo Maiozzi, situated next to the Broad Museum in Downtown L.A. Much like the fanciful menu creations head chef Timothy Hollingsworth is known for, the design adds depth to the space with unexpected combinations of finishes and textures. Despite the building's sharp lines, the restaurant achieves fluidity with hardwood floors run through with a path of hexagonal tile, expansive views through floor-to-ceiling windows, and an open kitchen. Reflective wall panels in the dining room and gold-tile backsplashes manage to bounce warm light through the open, airy space. The light emanates from minimalist bare-bulb fixtures overhead. The building is topped with a chef's garden where Hollingsworth sources herbs for the exquisite dishes he serves inside. LA Weekly awarded Otium Best Restaurant Design of 2016.
3) Shangri-La Construction
(213) 797-4240 | 550 South Hope Street Suite 700 Los Angeles CA 90071
President and CEO Andy Meyers co-founded Shangri-La Construction in 2008. A UCLA graduate and former NFL athlete, Meyers is an inspired team leader dedicated to improving the surrounding community with quality construction. That commitment has led to exclusive partnerships with companies like Lyfe Kitchen, a healthy fast food chain opening locations all over California and the Southwest. The International Interior Design Association (IIDA) has Shangri-La Construction projects with Calibre awards and nominations. Los Angeles Business Journal has dubbed the firm a Top 40 Contractor in the city.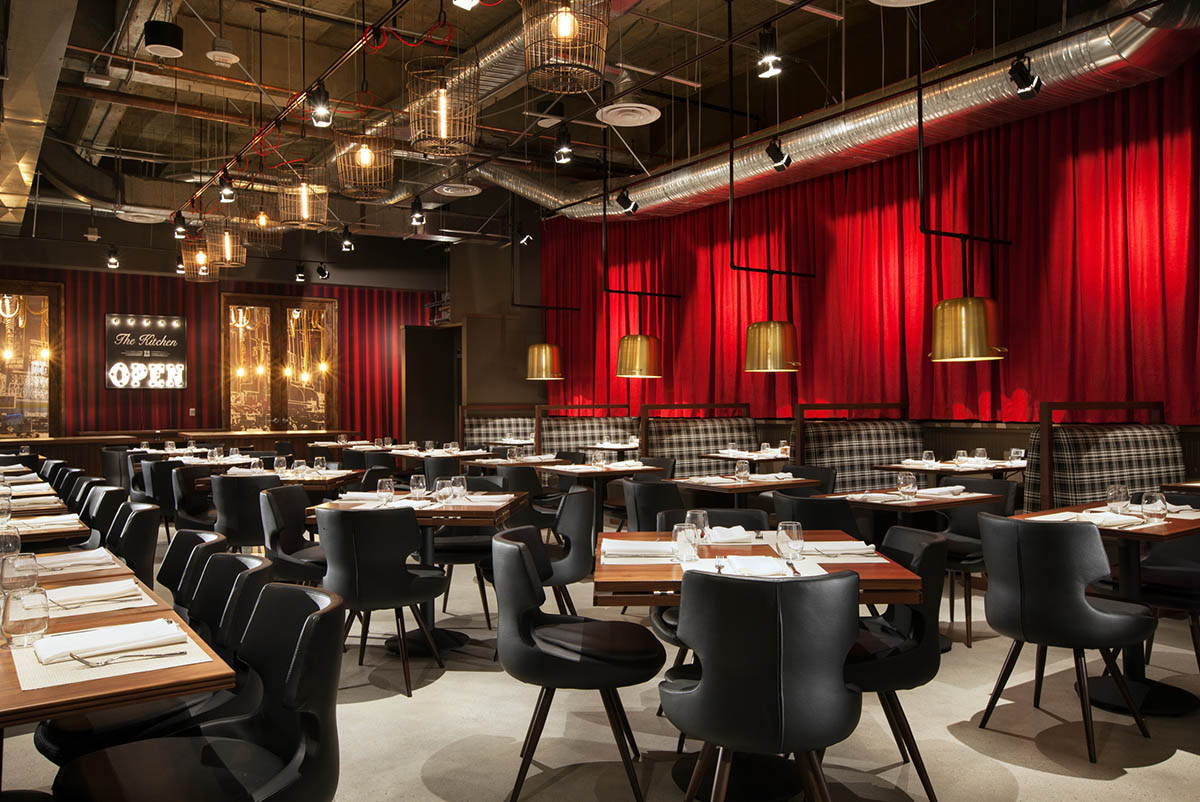 Featured Projects
The District on the Bloc is a Downtown Los Angeles favorite. The 4,108 square-foot, 100-seat bistro is helmed by chef Hansen Lee. Shangri-La Construction built the restaurant on the ground floor of the Sheraton hotel. Inside, guests can enjoy the menu all day in one of the two private dining rooms, the lounge, at the 50-seat bar, or in the main dining room. The look is upscale industrial; exposed ductwork and bare bulbs hanging from rope fixtures balance leather seating and marble tabletops. The flooring encapsulates the whole story, where the hexagonal tile below the bar meets the concrete of the dining room along a haphazard edge. Shangri-La worked carefully to complete the renovation while the hotel and even the kitchen were still in use as a stop-gap restaurant and room service hub. District on The Bloc's parent project, a full renovation of the brutalist building it anchors, won Gold for Best Hospitality Project at Los Angeles Business Journal Commercial Real Estate Awards.
2) CalAsia Construction
(323) 256-2943 | 3050 Fletcher Dr Los Angeles CA 90065
CalAsia Construction is associated with some of L.A.'s most popular restaurants—Osteria Mozza, Trattoria Neapolis, and a number of L.A. Live outposts for famed chefs and restaurateurs. But perhaps the CalAsia build with the highest profile is the studio-cum-restaurant used to film Gordon Ramsay's Fox show Hell's Kitchen. Couple John and Myrna Murawski founded CalAsia Construction in 2003, and in less than 15 years their team has completed over 500 residential and commercial projects, including renovations and ground-up builds. The Murawskis' restaurant-building experience goes back even further, over 25 years. CalAsia construction streamlines builds and ensures quality by employing a full staff of specialists and fine finish carpenters. Look for CalAsia Construction's work in the pages of L.A. Weekly and Fast Company.
Featured Projects
Osteria Mozza is one of L.A.'s most talked about—and most expensive—restaurants. CalAsia Construction worked with Kelly Architects and Chef Nancy Silverman to create a Melrose location worthy of the neighborhood and the award-winning Italian cuisine. Beveled stone bar and table tops pop against the wooden black floors and back bar. Subtle touches, like marble kickboards beneath the bar, and matching black molding on wood cabinetry exemplify the attention to detail a patron can expect from the menu. Osteria Mozza won AIA Los Angeles Restaurant Architecture People's Choice Award. CalAsia Construction also collaborated with celebrity chef Ludo Lefebvre on a not-so-average fried chicken spot on Universal CityWalk. Chef Ludo opened LudoBird in his 20th year of residence in Los Angeles, right at the center of one of the city's most well-known entertainment destinations, part of an effort to bring world-class cuisine to accompany L.A.'s top attractions. The high-end partnership caught the attention of Los Angeles Times.
1) R.D. Olson Constructors
(949) 474-2001 | 2955 Main Street Third Floor Irvine CA 92614
One of the Orange County Business Journal Top Commercial Contractors and an ENR Top 400 Contractor, R.D. Olson Constructors has a 36-year history in commercial building. Robert Olson founded the firm in Irvine in 1979 and his team has grown to have a national presence in hospitality construction, often partnering with clients like Kimpton Hotel and Restaurant Group, and W Hollywood Hotel to realize high-caliber restaurant designs. Their design collaborators include ENR Top Design Firm Gensler and the Walt Disney Imagineers. In 2016, R.D. Olson Constructors was named the Build Magazine Most Innovative General Contractor, and Robert Olson has won Ernst & Young's Entrepreneur of the Year Award.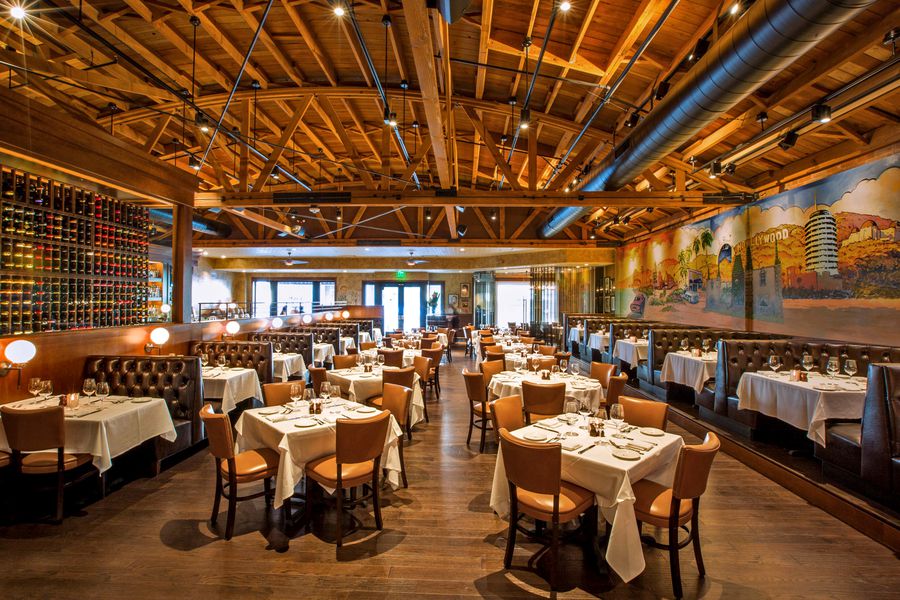 Featured Projects
After closing the West Hollywood location, Italian Palm Restaurant made its way to the famous 90210 zip code in Beverly Hills. The new location had to live up to the original, a favorite lunch spot for celebrities and entertainment industry executives. R.D. Olson Construction created the 6,000 square-foot restaurant in the former home of a Persian rug store. The result is an enveloping mix of luxurious and rustic finishes, designed by Dacre & Youngquist Architecture. The bowed ceiling, with its exposed beams, resembles the inner workings of a large ship. Decadent leather banquettes line the edges of the dining room. The bar and flooring are done in rich dark wood, as is the custom wine display that separates main seating from behind the scenes. The new location has plenty of wall space for new celebrity caricatures—a feature missed by patrons of the original spot.
Source: buildzoom.com